Continuous Ovens, Furnaces, Belt Conveyers & Airtorch Oven*
MHI Thermal Processing Solutions
Thermal processing solutions are expanding to higher temperatures, multiple treatments and atmosphere conditions. MHI is the technology leader in high temperature heating elements and furnaces. MHI offers heating solutions for a wide range of processes: bonding, oxidizing, drying, binder burnout, and sintering to name a few. Our goal has been to build furnaces that offer functionality, reliability and energy efficiency. We utilize the heating technology of molybdenum disilicide, silicon carbide, infrared, natural gas and our patented heating device, the Airtorch™*.

The Conveyer Belt AirtorchTM Ovens represent the new generation in heat treating using highly uniform hot air. It offers unique versatility, while improving productivity several fold. Please contact MHI for detailed specifications.

Pusher, Walking Beam & Rotary Furnaces
Custom Built Furnaces
Pricing for Airtorch Continuous Ovens
Specify your furnace and request a quote





CONVECTIVE HEATING:

High energy efficiency up to 70% savings over conventional ovens.
Environmentally friendly
-no noise operation
-no pollution operation



Manufacturers warranty
Extreme uniformity
Convective heat greater than 900°C
Adjustable uniform heat-up rate
Does convection help uniformity?
Very often the key to high productivity lies in good uniformity in the furnace/oven.
As ovens become larger this is a key concern and is often addressed by the proper convective design.
Energy efficiency and uniformity are increased by improving delta-star transition and convection.

Special Convective Ovens for moving parts also available (debind, degrease, remove paint, etc.) email us for more details.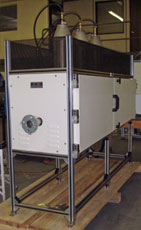 * MHI will honor the calculations made by your furnace consultant or OEM for power, flow and process applicability when using or retrofitting a non-MHI furnace. However the responsibility of the calculation rests with your consultant. MHI cannot recommend power for any Airtorch retrofit as the complete details of your furnace (e.g insulation, furnace load, exact process details etc.) may not be available to MHI. MHI is responsible only for the proper working of the AirtorchTM unit in a stand-alone condition as supplied. MHI is not in a position to discuss applicability for your individual process except in broad general terms, if at all. If you have purchased a complete furnace from MHI including controls then MHI will provide its standard guarantee as applicable. However MHI also gives you the option of purchasing only the the components you may want to purchase from MHI. Therefore, alternately for customers who purchase only the Airtorch™ Units or Controls seperately, or for a retrofit, MHI will still work with you or your furnace consultant/OEM for explaining Airtorch™ safety, use, any start-up issues, and other issues only if MHI is in a position to do so for your application.
or
Contact MHI to design the best
solution for your application.
Phone(513) 772-0404
Fax (513) 672-3333